Outline of History

For an overview of the social milieu out of which the Prohibition Party evolved, see:
McGerr, Michael () -- A Fierce Discontent: The Rise and Fall of the Progressive Movement in America, 1870-1920: Free Press, 395pp.
Hofstadter, Richard and Robert Weibe (1955) -- The Age of Reform
Hofstadter, Richard and Robert Weibe (1967) -- The Search for Order
For an overview of third parties in The United States, including the Prohibition Party, refer to this Random Bibliography:

The standard work on the history of the Prohibition Party is Roger Storms' "Partisan Prophets," published in 1972. Storms died in 1980, of complications from injuries sustained in a traffic accident. No one has collected Party records since 1972, although much information has been preserved in the monthly issues of the Prohibition Party newsletter, "The National Statesman." A stash of Partisan Prophets was recently discovered, and single copies are now available on request from the Prohibition National Committee, Box ll, McConnellsburg, Pennsylvania 17233.
Storms' work is not error-free, unfortunately. When Storms and this website contradict each other, this website is more likely to be correct. Please notify the editor of any additional mistakes in Storms.

Prohibition Party presidential candidates polled over 100,000 votes at each election from 1884 to 1920. The Prohibition Party elected Sidney Catts governor of Florida in 1916. It elected Kittel Halvorson of Minnesota to Congress in 1890, and it elected Charles Randall of California to Congress for three terms (1914 - 1916 - 1918). In 1904, it elected 204 local officials in just one county, Venango County, in Pennsylvania.

The Prohibition Party candidate who received the highest vote total in a single election was Rev. Robert P. Shuler in a 1932 California race for the US Senate. He garnered 560,088 votes (25.8%) and carried Orange and Riverside counties. He had previously played a key role in exposing corruption in other states. He was one of those involved in the investigation which led to the ouster of Gov. Ferguson in Texas.
The last Prohibition Party members to win election to office in the 20th Century were three local officials in the town of Lee, ME in 1978. Fred Dingley won re-election as town moderator, for a total of 30 years of service in that office. Roger Storms was re-elected to the District 30 School Board, and his wife Margaret was re-elected as town clerk.
These people were elected as non-partisan candidates (no party label on ballot), although they were Prohibition Party members. The last Prohibition Party candidates elected in the 20th Century were two members of the Winona Lake, Indiana town council, in 1959.
The first Prohibition Party candidate to be elected in the 21st Century was James Hedges, township assessor in Thompson Township, Fulton County, Pennsylvania. Hedges was elected in 2001, for a 4-year term. He was re-elected in 2005, after which the state legislature abolished the office of "Township Assessor." (Incumbents were allowed to complete their terms.)
Between 1933 and 2003, the chairman of the National Committee served as editor of the National Committee's newsletter, The National Statesman. The Statesman was founded by then national chairman Edward Blake in 1933. It was discontinued in 2003.

A separate office of 'Executive Secretary' was established in 1955, when E. Harold Munn became chairman. Former chairman Virgil C. Finnell was named to the position. Future chairman Earl F. Dodge held the position from 1957 through 1963. Dodge was followed by Delmar D. Gibbons, 1963-1967. Dodge then returned and served from 1968 until 1979, at which time the positions of chairman and executive secretary were merged. The position of Executive Secretary was separated from that of chairman in 2003; the current Executive Secretary of the Prohibition National Committee is James Hedges.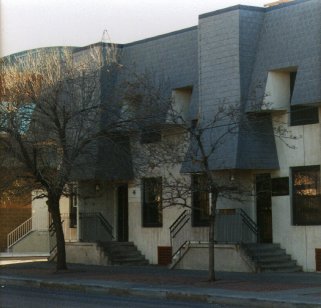 "photo by Earl Higgerson, 1997"
Legend: Condo unit at left is the "Russell Building," 128 West 11th Ave, Denver, Colorado
The National Headquarters of the Prohibition Party, 1977-1999.
Dodge sold the condominium late in 1999, for unexplained reasons. He then said that he had moved the office into his house, saying several times in print that he would build/had built an addition onto his house to accomodate the office.
No building permit was issued for an addition. In June, 2001, the city building inspector visited the property and reported that no addition had been built. Driving by Dodge's house during the 2001 conference, one could see several piles of "stuff" sitting under plastic tarpaulins in his driveway. Through an open garage door, one could see that his basement was piled to the ceiling with boxes and furniture.
A person who attended the 2001 conference, which at the last moment had been moved from the announced public location to Dodge's house after Dodge discovered that dissident Party member James Hedges had arrived in Denver bearing two proxies to attend the meeting, said that there was no discussion of any addition at the meeting, nor is any room in Dodge's house is used exclusively for Prohibition Party work. However, Dodge had purchased himself a garden tool shed, and he had obtained an electrical permit to run a line from the house to the tool shed.
A report distributed by Dodge to members of the Prohibition National Committee after the meeting repeated the claim that he had built an addition onto his house.
No member of the Prohibition National Committee can legally challenge this situation, because Dodge has transferred most Party assets to a "National Prohibition Foundation" controlled by his family. He states, in the above-cited report, that the trustees of the Foundation are now himself, his daughter Karen, and a once-influential Michigan Prohibitionist who is now senile and is being cared for at home by relatives. Dodge's notary is his wife, Barbara.
This legal structure ensures that, even though the Prohibition National Committee has now ousted Dodge as Chairman, the Dodge family still control most Prohibition Party assets.
The condominium was owned by the Foundation, not by the National Committee. It therefore could be sold without the approval of or even notice to the National Committee. Among other things, the family Foundation also owns the domain name of the "official" Prohibition Party website, www.prohibition.org.
Dodge neglected to renew the incorporation of his "National Prohibition Foundation" in 2001, and members of the Action! Prohibitionists Caucus made a new corporation using the same name.
Dodge still claims to own the name, but he incorporated (also in Colorado) an "American Prohibition Foundation" in 2002. For many years, Dodge has avoided paying Social Security taxes on his own income from Prohibition Party sources by laundering it through the non-profit (but not tax-deductable) Foundation. An IRS spokesman with whom the Editor recently spoke by telephone refused to state whether or not this tactic was lawful.
---
There have been several official and unofficial periodicals associated with the Prohibition Party. There was "The Voice" in New York, "The New Voice" also in New York, "The Lever" in Chicago, "The Vindicator" in Pennsylvania, a "National Prohibitionist" in Chicago and Winona Lake, and "The National Statesman" which moved from place to place ending in Denver.
The list of editors which follows is for the National Prohibitionist started in Chicago which was later re-named the National Statesman. The National Statesman was disassociated with the Prohibition National Committee in 2003, but has continued to be published by Chairman Emeritus Earl F. Dodge as his personal journal of opinion.
National Statesman editors
1933-47 — Edward E. Blake (founder), Chicago, Illinois




1948-51 — Virgil C, Finnell, Winona Lake, Indiana




1951-53 — Gerald Overholt, Winona Lake, Indiana




1953-55 — Lowell H. Coate, Winona Lake, Indiana




1955-58 — Virgil C. Finnell and E.H. Munn, Winona Lake, Indiana




1958-62 — Earl F. Dodge, Winona Lake and Saint Louis




1963-67 — Delmar P. Gibbons, Kalamazoo, Michigan




1967-03 — Earl F. Dodge, Kalamazoo and Denver (discontinued)

The National Statesman was a member of the Evangelical Press Association in 1968.
Prohibition Party National Convention Sites
1869—CHICAGO, Illinois (founding)




1872—COLUMBUS, Ohio
1876—CLEVELAND, Ohio
1880—CLEVELAND, Ohio




1884—PITTSBURGH, Pennsylvania




1888—INDIANAPOLIS, Indiana




1892—CINCINNATI, Ohio




1986—PITTSBURGH, Pennsylvania




1900—CHICAGO, Illinois




1904—INDIANAPOLIS, Indiana




1908—COLUMBUS, Ohio




1912—ATLANTIC CITY, New Jersey




1916—SAINT PAUL, Minnesota




1920—LINCOLN, Nebraska




1924—COLUMBUS, Ohio




1928—CHICAGO, Illinois




1932—INDIANAPOLIS, Indiana




1936—NIAGARA FALLS, New York
1940—CHICAGO, Illinois




1943—INDIANAPOLIS, Indiana




1947—WINONA LAKE, Indiana




1951—INDIANAPOLIS, Indiana




1955—MILFORD (Camp Mack), Indiana




1959—WINONA LAKE, Indiana


1963—SAINT LOUIS, Missouri

1967—DETROIT, Michigan

1971—WICHITA, Kansas




1973 conference—JUNCTION CITY, Kansas




1975—DENVER, Colorado




1976—special Bicentennial conference—
                PORTLAND, Maine (announced
                for Boston, then changed)




1977 conference—SANTA ANA, California




1979—BIRMINGHAM, Alabama




1981 conference—COLDWATER, Michigan




1983—MANDAN, North Dakota




1985 conference—SPRINGFIELD, Illinois




1987—SPRINGFIELD, Illinois




1990 conference (rescheduled)—
READING, Pennsylvania




1991—MINNEAPOLIS, Minnesota




1993 conference —FREMONT, Ohio




1995—DENVER, Colorado




1997 conference —INDIANAPOLIS, Indiana




1999—BIRD-IN-HAND, Pennsylvania




2001 conference—LAKEWOOD, Colorado


2003—FAIRFIELD GLADE, Tennessee


2005 conference—BEDFORD, Pennsylvania


2007—

INDIANAPOLIS, Indiana


2009 conference—MEMPHIS, Tennessee


2011—CULLMAN, Alabama


2013 (conference) --none held--

Earl Dodge's son, Calvin, is said to have a video of the 1987 convention; it is not available for study.

PNC Convention Rules
The Storms Collection
The Storms Collection of lapel buttons and other campaign artifacts was begun in 1968, on the initiative of Earl Dodge, and was dedicated to Storms in October, 1981, after Storms' untimely death. It was being stored by Earl Dodge at his home in Lakewood, Colorado at the time of his (Dodge's) death.
Dodge's relatives proceeded to donate most of the material to the Smithsonian Institution, where it is now available for study by appointment. Items rejected by The Smithsonian were sold by the Dodges, who kept the money received.

Bullmoose Chapter of APIC

The Third Party Chapter of the American Political Items Collectors (APIC) specializes in the history of third-party movements in America through the dissemination of knowledge about these parties, their positions on political issues, their history, their leadership, and their political items. The Chapter illuminates the place of third parties on the American political landscape. It publishes a newsletter 4 times each year to keep its members abreast of developments in third parties in America. The newsletter also includes articles on the histories of these parties, many of which are written by college and university faculty members whose areas of specialization are in this part of American History.

Prohibition Party on TV

The first, and to date only, Prohibition Party candidate to use paid television advertising in his campaign was David Livingston. Livingston ran for several Colorado offices in the1980's, ending with a try for Governor in 1990 and a try for Lt. Governor in 1994. He had two 30-second spots taped by his local television station to use during his campaign for Governor. The spots cost $260 to produce and about $800 to broadcast several times during the early morning hours. They ran on four stations.

Below are Links to both of the two 30-second clips, in "real video" format. The audio has been fixed. You need to download the

to view the videos.

Video One Video Two
A third major Prohibition Party collection is held by the WCTU Library at Evanston, Illinois. We have invited them to send us a listing, but we have not yet received a response.
The New York (City) Public Library holds about 4000 volumes on temperance subjects. They have a special interest in Prohibition Party materials. About 450 periodical titles are held; 15 are currently received. There is WCTU material, the James Black temperance collection, the Mary Hannah Hunt correspondence, the Gerrit Smith (family) collection, and the Cyrus Williams papers.
David Fahey notes that some of the items will be difficult for library staff to locate and that much of the ephemera is in poor physical condition.
A collection of temperance material (not necessarily of Prohibition Party material) is included in the Hay Library at Brown University, Providence, Rhode Island. It is described as "a large and interesting collection of temperance material from both the nineteenth and twentieth centuries, including extensive runs of some temperance newspapers."