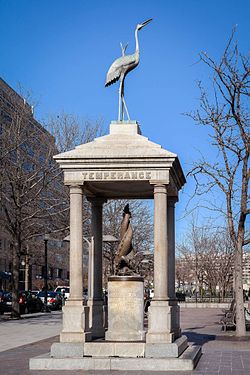 In downtown Washington, DC is a temperance fountain donated to the city in 1884 by Henry Cogswell, a San Francisco dentist and prohibition advocate (he is not known to have been a Prohibition Party candidate, however). It soon feel into disrepair, but survives to this day near its original location at Pennsylvania Avenue and 7th Street, NW. It was entered into the National Register of Historic Places in 1984.
Excellent articles on the Washington, DC Cogswell Fountain maybe found in the Atlas Obscura and in Wikipedia.
Catholic Total Abstinence Fountain, Philadelphia
The large, ornate public fountain in West Fairmount Park was erected in 1876 by the Catholic Total Abstinence Union of America. It was restored by the City in 2016-17 at a cost of more than $600,000, using marble from the original quarry in Italy and granite from Maine.
To learn more, click here.
Columbian Exposition Fountain (1893)
Anna Gordon, a WCTU member and Superintendent of the Juvenile Department of the WWCTU, raised $1800 from children to construct a bronze fountain at the Chicago World's Fair. The design was of a little girl offering a cup of water.
The fountain afterward was moved in front of the Women's Temple in Chicago.