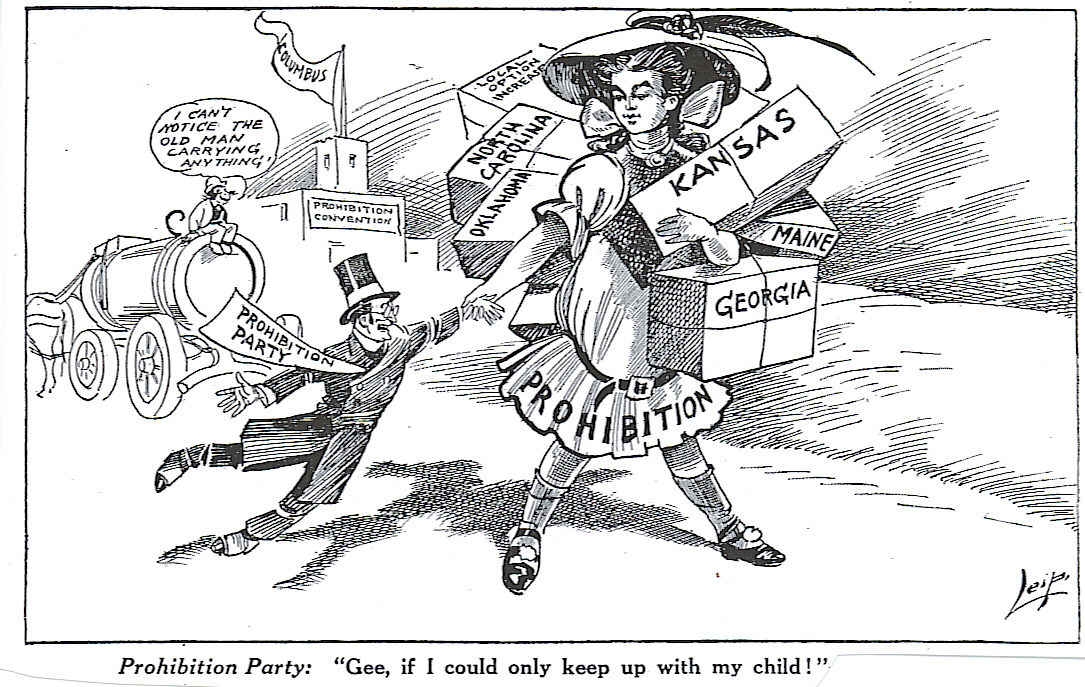 "This is an Anti-Saloon League anti-Prohibition Party cartoon. The ASL was a
single-issue pressure lobby, whereas the PP was interested in several social reforms.
The surviving remnant of the ASL still (in 2019) refuses to co-operate with the PP. "
Arthur S. Caton was born June 28, 1852 in Ohio. His parents were immigrants from Ireland. He married Dottie Moore Sept. 11, 1873 in Delaware, Ohio.
By 1880 the Catons were living in Jackson, Ohio, where Arthur was in the dry goods business. It would appear that he somehow connected with Prohibitionist Party supporter John R. Chaplin (also born in 1852), and was in on the ground floor of the Olympia Development Company.
Chaplin is a well known figure in the history of Olympia, and the subject of a previous OlyBlog post. He organized the Olympia Development Company in Ohio and part of the profits were earmarked to support his People's University in Olympia.
Arthur S. Caton arrived in Olympia about 1906, around the time the People's University was folding up, and started out as the Manager of the Olympia Development Co. His base of operations was always on the Westside. He did move around the Harrison-4th Ave. W. area for awhile before settling in the 4th Ave./Milroy block about 1915, when the area was still open farmland.
Caton was not in Washington State very long before deciding to run for public office on the Prohibition Party ticket. The much more powerful Anti-Saloon League viewed the Prohibs as being hopelessly outdated and extremist. In one regional ASL publication an article about the 1908 gubernatorial race does not even mention Caton or the Prohibs. But Caton, who was a Methodist, had apparently been part of some sort of Dry Network with Chaplin prior to his arrival in Olympia. Previous Prohibitionist candidates for Governor had occupations that would expose them to the pitfalls of alcohol: judge, clergyman, educator. But Caton was a successful businessman, so it would figure his Methodist belief would have been a major factor in his decision to run for office under the banner of this marginal party.
Caton ran for the Congressman-at-large position in 1906 and placed 11th out of 12 candidates with 2,582 votes (0.76%). In his 1908 run for Governor he placed last out of four with 3,514 votes. His final run was in 1914, when he ran for the U.S. Senate and placed 5th out of 5 with 9,551 votes (2.77%). 1914 was also the year Washington State voters approved a measure to enact the prohibition of alcohol into law. Although Arthur was not elected to public office, at some point in his career he served as Olympia's Chief of Police.
But Olympians don't remember Arthur S. Caton as a Prohibitionist or Police Chief. He is chiefly remembered as a real estate man who had a hand in developing the West Side. His initial involvement here was with the Olympia Development Company. Here is how the Chamber of Commerce described the Company circa 1906:
"The Olympia Development Company"
"Among the aids to the County's development and the growth of Olympia, and probably the foremost factor of progress at the present time is the above company."
"This corporation is composed of nearly one hundred and fifty influential people, organized in Ohio, about three years ago, for the express purpose of aiding in development of resources that must of necessity be tributary to Olympia, a place selected, after careful investigation and thorough consideration, as one of the best, if not the very best, point in the rapidly growing west for speedy, sure and lucrative results from well-directed enterprise. Its organization was effected at an opportune time, and, with sufficient capital its directors were enabled to secure a large part of the unimproved real estate, immediately adjacent to the city, including four thousand acres of land, and nearly all the unimproved city property on the west side of the bay, amounting to several thousand lots. That purchase practically puts the company in control of the future development on that side of the bay, and enables it to accomplish its purpose in the most effective manner. Among its holdings are several … [rest of line is obscured] … sites for factories, mills and machine shops, of all descriptions. It is the intent of the company to deal liberally with all who will locate labor-employing enterprises. The manager of the company's affairs in Olympia is Mr. A.S. Caton…"
"Aside from Olympia's natural advantages, it seems to the Chamber of Commerce that no one feature furnishes greater assurance of its ultimate success in trying to build a great city, than the fact that a company with such holdings is devoting it efforts in that direction."
The Company had a piece of land on the Westside it called "Fruitvale," and it had an unusual marketing plan. The following is from an ODC pamphlet which consists mostly of photos of fine fruits and vegetables:
"Are You Looking for an Investment?"
"You will have a good climate in which to live.
You can realize large returns on your investment.
Church and school privileges are excellent.
Summers are cool, the winters are mild, and the weather not subject to sudden changes.
You will find a splendid class of citizens.
You may depend on a sure crop.
Your work is easy instead of burdensome.
Buildings are being erected at a rapid rate.
You will have advantage of electric car service near your home.
Land yields larger returns than any of its kind in the United States.
You have advantage of a good market for your products.
Railroad facilities are good.
Scenery is beautiful.
Fuel is cheap.
No blight or pests to destroy the crops.
No hail storms or frosts are known.
No cyclones or severe storms ruin the trees.
No question as to water rights; Nature furnishes ample rain."
"The Price and Terms"
"The lands are all close to the city and also the Sound and railway. The company will put your tract in the condition of a garden, and will plant the orchard and care for it for a period of six years free of charge, at which time the orchard will be worth, at a conservative estimate, $1,000 per acre."
"The price of our five or ten acre tracts is $500 per acre, (except some adjoining the town, which are a little higher.) The terms of payment are one-fifth cash. The balance is divided into equal monthly installments covering a period of six years."
"The text of the contract with the purchaser is:"
"1. The company prepares the tract like a garden for the purchaser. 2. Plants the tract to the fruit desired. 3. Cares for it through the period named in the contract. 4. Pays all taxes and assessments. 5. Turns over the tract with all trees healthy and sound. 6. Allows 60 days grace in case of sickness. 7. Purchaser can take deed when he has paid 60 per cent of the purchase price. 8. All tracts are sold through a trustee, a trust deed is executed at the time of making a contract with the company, the trustee holds this deed for the purchaser, together with a copy of contract; all money is paid to the trustee; when full payment is made the trustee turns over the deed to the tract of land. 9. The company takes care of the tract and receives all they take from the tract during the period of the contract…"
"The richest and most prosperous fruit section in the world is Olympia, Washington, in the famous Puget Sound Valley. Every fruit you want to plant will grow here. Every vegetable that is worth while will thrive here. Every man who comes here and works only a few hours per day will become independent. All in all, the same climate, air, soil and conditions that are good for fruit and flowers and birds are good for the fruit and flower growers too."
"We make no appeal to those who must get rich quick, nor to those who must get their wealth midst the rush and glitter and unnaturalness of the crowded city streets, nor even to those who would come if they could, but can't (and there are many such), but our appeal is rather to that greater number, represented everywhere, and of whom, probably, you are one; honest, industrious, patient; worthy of more than you have, but in a rut of circumstances; born in, or drfited to the city, now a cog in some corporate machine– but longing to be FREE. Or are you farming a 'farmed out' farm or living in a 'lived out' town? To such we appeal. Others like you are here. Their families are here. They came, they saw and stayed. They are a progressive people, sober, frugal, natural, and their program is bound to win. With confidence they are living a day at a time, cheered by the rainbow of promise that spans the full length of the valley, that, so sure as the seasons shall come and go, their goal is drawing nearer. Is yours?"
"We extend the invitation. Come and see."
"Come and live in Olympia, and you will realize for the first time in your life that you are really living."
They just don't write real estate brochures like that anymore. Caton stopped identifying himself as the ODC manager about 1910 and simply became a realtor, with his office located on Franklin St. By 1915 he listed his occupation as fruit grower, or farmer. He had settled in the area of 4th Ave. W. and Milroy, which at that time was just outside city limits. Although he and his wife had land holdings throughout the Westside, his base was the chunk of land now occupied by Milroy, Decatur, Cushing streets, Black Lake Blvd. and a big portion of Das Kapital Mall.
His fruit growing efforts and use of smudge pots was mentioned in a Washington State Dept. of Agriculture report: "In the spring of 1919, Mr. A.S. Caton of Olympia installed a system in his pear orchard consisting of about thirteen acres. The cost of the installation including 1,300 smudge pots, a large steel distributing tank (mounted), a concrete supply reservoir, holding a carload of oil, was about $1,600. He fired the pots thirteen times, and used about 500 gallons of oil and believes that he saved his pear crop, as some nights in adjoining fields ice formed on standing water."
Mrs. Caton died Oct. 6, 1929, and Arthur had to weather the Great Depression and the end of Prohibition as a widower. Apparently the Catons did not have children, but he did have other relatives in the local area. He died in Olympia July 16, 1941, aged 89, after a brief illness and was buried in Tacoma.
It is possible there are still some of his fruit trees in existence on the Westside. Caton Way, an odd little street that goes against the flow, is fittingly enough named after him.
Caton ran as a Prohibitionist in the 3d Congressional District in 1916. He was a Prohibition Party elector in 1920.
-- By Steve Willis
[BACK]