A.B.L. Gellerman was the last in a continuous line of Prohibition Party Ungovernors. Although that party would run in one more Washington State gubernatorial election (1944), Gellerman was the final representative of his era and political type– the anti-alcohol educator/minister.
August Bernhardt Louis Gellerman (sometimes spelled Gellermann) was born Feb. 22, 1870 in Taylor's Falls, Minnesota. Both of his parents had immigrated from Hamburg.
He came to the new State of Washington in 1890 and worked as a school teacher in South Prairie. He married Emma Wanger (1878-1954) of South Bend in June 1894. As the South Bend Journal described, "After the wedding the young people attended service at the M.E. Church in the evening, then driving to Willapa, took the train on Monday morning for Tacoma. The bride has been considered as one of South Bend's most bright and noble young ladies, while the groom has been a friend of the bride's family for nearly three years and is at present the popular school teacher at South Prairie. We bespeak for the young people a bright and happy future and extend to them our congratulations."
South Bend was a booming town in 1894. In fact, it was the new Pacific County seat, having replaced Oysterville. The story of this transfer has a direct relation to Gellerman. Historians Donella J. Lucero and Nancy L. Hobbs tell the tale:
"By the 1890s, Oysterville faced competition from South Bend and Nahcotta/Sealand, both of which had ambitions to become the new seat of county government. Nahcotta/Sealand was promoted by the railroad because it was at the end of the rail line. South Bend's citizens called for a ballot to determine the new location, and in the election of 1892 South Bend was apparently voted the new county seat. The people of Oysterville objected to the election, citing that officials allowed non-residents and non-registered voters to participate. Oysterville succeeded in getting a stop order by the court in order to look into the legality of the election, but the officials of South Bend did not honor the order and on Sunday, February 5, 1893, the county records were forcefully removed from Oysterville to South Bend. The story holds that 85 men came from South Bend on two steamers. Several of the men kicked down the door, stormed into the courthouse, and began to remove both the official records and the furniture. County Auditor Phil D. Barney, who was in the building at the time, refused to give up the records in his possession. It was said that Barney put up a good fight and hit several South Benders over the head with a chair leg, but he was outnumbered and despite his protests the group from South Bend stole everything except what was locked in the vault. It was later found by the courts that the election was in fact illegal, but by then it was too late to reverse what had happened. Since then the Pacific County seat has remained in South Bend."
The old courthouse sat vacant for two years, but Gellerman stepped in with a bold plan. He took over the old building with the aim of using it as a college. It is interesting to note that just as the early Washington State socialists created communal experiments, such as Equality Colony, to demonstrate their philosophy so too did the prohibitionists create educational institutions. While Gellerman was organizing in Oysterville, prohibitionist John R. Chaplin was attempting to start a university in Olympia, beginning in 1894. Chaplin would later be joined by Ungovernor Arthur S. Caton.
Peninsular College opened May 20, 1895. Gellerman wrote a promotional column for the Apr. 26, 1895 South Bend Journal.
"Having met with a goodly number of the business men and friends in Pacific county, we feel it our duty to say a word to them through the columns of the press, since that is the most convenient way to say a few necessary things in response to the repeated questions asked by them."
"In the first place, are we here to go to work as stated in the catalogue? We are, and we mean to abide with you if you desire."
"Next, do you believe it is possible to succeed in this part of the state? Well, If, Yes, and Perhaps. Let me ask you whether there is any reason why we should not succeed where there are about twenty or twenty-five young people sent from this county each year to attend some college on other counties or even states? There is certainly enough material in this county; but with us it is a question as to whether the people will have the raw material fitted for life's labors or, like the evil and unwise servant, bury their talent to reap regret. We cannot succeed unless we have material to work with and material to work upon. A sawmill having the very best machinery in existence, cannot be a success unless it be supplied with the proper material for making lumber. So with a college. It may have the best possible faculty and appliances, but it must have students, to work upon and with, to be a success. And allow me to give a hint to those people who have children who are 'good for nothing,' according to their own statements, by stating that a log may not always be fitted for the best grade lumber, yet it will be of more use to humanity to be made into some kind of lumber, than to leave it in the forest to lie until it rots and returns to mother earth."
"You say that you will not send your son because he cannot remain to finish the entire course, and hence would only waste time. Who ever refused to eat at a well supplied table because he could not remain until all be eaten. Many a young man or woman has received the key to success, and learned to use it quite well, by attending a business college one term. Let the student who can attend but one term a year, come and attend that long; and the one who can attend two or more terms, attend also and our success is sure."
"Those who doubt our success most, should be the first to send students, and if they have no children to send from their own home, then send some young man or woman who may desire an education, but is unable to secure it. Or, if this seems convenient, send us a check from $1 up to your own figure, and increase the sum to twice the amount of the former each time you doubt again and see how soon your doubts will vanish from your mind, even as the Brownies disappear from the scene of action when the rays of the sun appear. We make this suggestion, since we believe it will help some 'Doubting Thomas' to come to knowledge of the truth in the matter."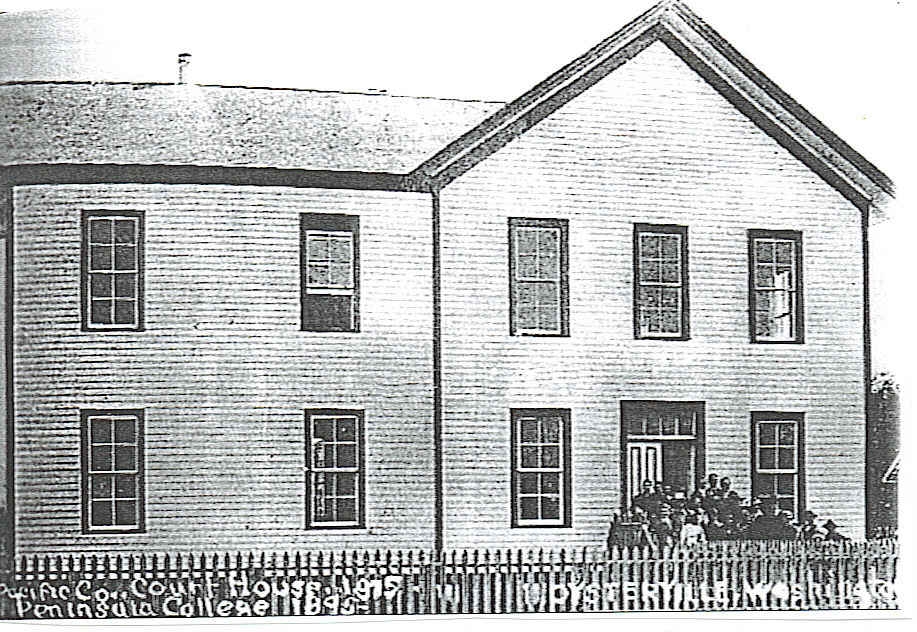 "The first Pacific County courthouse and home of Peninsular College"
"We need the encouragement of all who live in this section of the state, and do not refuse to help us simply because you can't do something wonderful or extraordinary. Your mite, if in all your might, will be all reasonable people can expect. Your words of encouragement are worth very much, while your discouraging words will do us much and unreasonable harm. Our institution is for your benefit as well as for our own, and thinking people know that there will be more benefit derived by your friends than by ourselves, for some time hence."
"Write to us for special terms for our summer normal and business course. Send us the names of young men and women desiring to become useful in the world and you will be surprised to find that you may secure an education in your own state and vicinity. A.B.L. Gellerman, Principal."
Peninsular College lasted two years. According to historian L.R. Williams, "The course of study included both grade and high school subjects. About 40 students, including several from Portland, were enrolled. Tuition charges were $30 for nine months. The faculty consisted of A.B.L. Gellerman, principal and history teacher, Mrs. Gellerman, who taught German and music; Mr. Hines, teacher of mathematics; William Forrester, grade principal; May B. Lilly, grade teacher; and Miss Harriet, teacher of commercial subjects." Hobbs and Lucero add that "the college was quite liberal for its day." A photo of the school shows a large wooden building with a group bunched together at the entrance, probably including Mr. Gellerman. The building blew down in a storm in 1940.
By 1898 Gellerman was in Tacoma. He taught high school there and at some point was a faculty member at the College of Puget Sound. During this time period he also became a father and from 1898-1905 served as a Methodist minister in Tacoma, Sumner, and Gig Harbor. The earliest mention I can find of his involvement with the Prohibition Party is in Tacoma in 1904.
In 1905 he entered the real estate and insurance business and a couple years later moved to Seattle. When he was nominated by the Prohibition Party in 1916 to run for Governor, his home was given as Tacoma, but it appears Seattle was his base.
By 1916 Prohibition was now the law in Washington State. Both of the major candidates, Gov. Lister and ex-Gov. McBride, fell all over themselves to embrace the Dry platform. When you have a political party named after a single issue, Prohibition, and your goal is achieved, then what? You get clobbered at the polls, that's what. Gellerman placed a very distant 4th place out of 6 candidates with 3,514 votes (0.93%). He placed 4th in every county except Grant, Jefferson, King, and Mason, where he was 5th.
There is an odd twist of fate in his real estate dealings, enabling him to perhaps perform a service closer to his philosophy than he realized. Among his holdings were two movie houses. In 1921 he was one of the original owners of the building housing the Neptune Theater in Seattle. He also owned the Nickelodeon in Portland. Norman Clark observed, " … Many workers had discovered that the changes in American society were sweeping them into the middle class and that the saloon was, after all, dispensable. The 'poor men's club' was being displaced by institutions of more vitality and attractiveness. Even before the saloons closed in 1916, it was clear to some observers, for example, that the increasing popularity of moving-picture theaters had cut sharply into saloon attendance. The technology of the progressive age was producing a machinery and gadgetry which diverted saloon regulars and to a marvelous degree accelerated the social assimilation of the working classes."
By the mid 1920s his family had grown to four sons and one daughter. He left Seattle, apparently after 1941, and "resided at his timber ranch near Indianola," or so states his obituary. He retired in 1947 and died while visiting in Burbank, California, Mar. 25, 1948.
Gellerman's obituary has no mention of Peninsular College, but his 1916 run for Governor is prominently listed. One of his grandchildren, Nancy-Lou Patterson, has gained some recognition as an author and academic.
-- By Steve Willis
[BACK]